Some of us are old enough to remember the jokes about "Cabot Cove Syndrome" that were going around back when Angela Lansbury's mystery writer, Jessica Fletcher, was solving murder cases. Others may have discovered Murder, She Wrote through the ever-present reruns on the Hallmark Movies and Mysteries Channel.
The program about a small fictional town in Maine featured a new murder every week, and with the small population there, it seemed townsfolk were dying off like flies. The jokesters had a saying that still rings true as good advice for mystery writers today. "Don't move to Cabot Cove." This is particularly important if they're writing an amateur sleuth series or cozy mysteries, which are often set in small towns.
Eventually, Jessica Fletcher's writers picked up on the problem, and sent her off to New York City where she kept an apartment. Then they began sending her to all sorts of other cities and countries to practice her detecting skills. She kept her home in Cabot Cove, but far fewer murders happened there.
So how do we place our mystery series protagonist in a small town, yet still offer her, or him, the necessary room to roam? In my case, planning ahead before writing the first book in the Aimee Machado Mystery series was the key. Using what I knew about the world outside my own hometown seemed like the way to go. What were the reasons my protagonist might break away temporarily from her hometown and her job as a hospital librarian to solve a crime?
F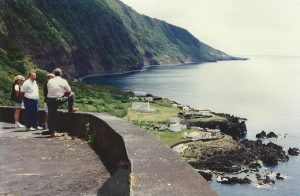 irst, I gave her parents who live half a world away on a mid-Atlantic island in the Azores. Something I was familiar with, because I'd been there.
Then, I gave her a corporate pilot as a boyfriend. Something else I knew about, because there was a general aviation pilot boyfriend in my own past. With a pilot and a plane at her disposal, Aimee can hop to all sorts of destinations when the need arises: San Francisco, Seattle, Boston, even the Azores.  No problem.
And remembering Jessica Fletcher's New York adventures, I gave my protagonist a grandfather and step-grandmother who are actors living in New York City. Something else I knew about, as I had spent a lot of time around New York's theatre scene while living on the East Coast studying for my Theatre Arts degree.
And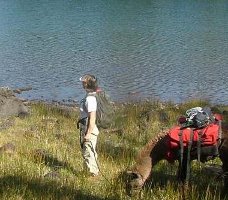 last, but far from least, my protagonist lives on a llama ranch owned by her other set of grandparents. Her home is a converted bunkhouse above their llama barn. Conveniently, it's only a short drive to the hospital where she works. In the second book in my series, her experience with llamas gave her the opportunity to hike in the mountain wilderness near her home when tracking down a missing character.
So a small-town setting may be a great home base for a mystery protagonist, but it's a lot more fun for readers if that character has plenty of room to roam. I know it's a lot more fun for me.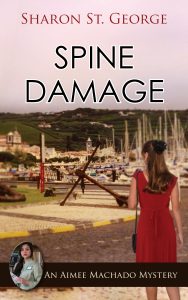 In Spine Damage, the fourth book in the Aimee Machado Mystery series, Aimee and Nick travel from their hometown of Timbergate, California to the Azores Islands and then to San Francisco's yachting scene. They're on a desperate search for clues to the fate of a missing teenage girl held captive on a superyacht whose destination is unknown. We'll know if they find her in time when the book is released May 15, 2017.