What do hospitals, librarians, jujitsu and llamas, have in common?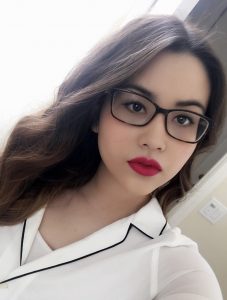 Ask Aimee Machado, a hospital librarian who specializes in forensics, holds a black belt, and lives in her grandparents' llama barn. She's half Chinese, half Portuguese, and all about solving mysteries involving Timbergate Medical Center. Humor and romance are icing on the cake in these amateur sleuth stories.
---
"Love, Love, Love your books!!! Having grown up in Northern California, it is so refreshing to read a mystery that takes place in our own "Neck of the Woods." The reader feels like they're actually in the story. The scenery is unique and characters are so real, you feel like they could be living down the street. Each chapter is more mesmerizing than the last. Sharon St. George has managed to write a mystery series like no other. You'll never look at your hospital the same way again… "

 ~  

A Northern California Reader|



---
SPINE DAMAGE – Book four in the Aimee Machado Mystery series.
Released May 15, 2017
A young Portuguese-speaking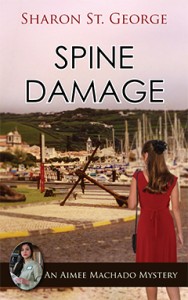 man turns up at Timbergate Medical Center with a
bullet lodged in his spine. Aimee Machado's mother, a medical interpreter who is visiting Timbergate from the Azores, learns the patient's name is Paulo Ferrera. He says he's searching for his little sister, fifteen-year-old Liliana, who has gone missing from their home in the Azores. But why did his search bring him five thousand miles to a hospital in Northern California? Before he can say more, he is whisked away for emergency surgery. The bullet is removed, but he lapses into a coma and doctors are not sure he will survive. Aimee and her pilot boyfriend, Nick Alexander, fly Aimee's parents home to the Azores, where they question Paulo's parents. They are told that the missing girl sneaked away to a party on a mysterious superyacht that no one can locate or identify. The day after the party, the yacht had vanished and so had Liliana. Now there are two crimes to solve, and they seem related. One is the shooting of Paulo Ferrera, the other is the apparent abduction of his little sister, Liliana. Nick and Aimee discover clues that take them from the Azores to the San Francisco Bay Area, but what is the connection to Timbergate Medical Center? When they discover the shocking truth about Liliana's disappearance, their efforts to find her become a desperate race against time.
In "Spine Damage", author Sharon St. George once again demonstrates her mastery of the genre with this fourth title in her outstanding 'Aimee Machado Mystery' series. While unreservedly recommended for community library Mystery/Suspense collections, it should be noted for the personal reading lists of dedicated mystery buffs in general, and Sharon St. George fans in particular, that "Spine Damage" is also available in a Kindle format ($4.95).
– Midwest Book Review
4½ stars: "For readers seeking a well-written mystery with just a hint of romance, Spine Damage is guaranteed to satisfy! Ms. St. George does a wonderful job of including all the pertinent details while throwing a bit of fun and Portuguese culture into the mix. The romance is sweet and Aimee and Nick are beautifully developed characters who make a wonderful couple. There are many well-researched crime and medical details which lend authenticity to the novel."
"Readers who enjoy detailed world and character building with sweet romance will thoroughly enjoy Spine Damage."|
—Claudette Melanson for InD'Tale Magazine
Sharon St. George brings strong prose, with vivid details and dedication to the mystery. Spine Damage is intelligently written, with a literary quality to the storytelling, and driven characters. The side characters are well-defined and spring the plot forward, with every scene counting. The case is at the center of the plot, but Aimee's life isn't sidelined. Her daily struggles, work, and family are a large part of what helps her put details together. Aimee is a delightful narrator, full of heart, and is driven not to simply solve the case, but to find answers and justice. The mystery is real, riveting and challenging as Aimee puts forth every effort not to give up. The action keeps you guessing until the very end. A compelling read for any mystery lover!
—Reviewed by Liz Konkel for Readers' Favorite
Spine Damage is now available for purchase from Amazon and Barnes and Noble. Or you can request it at a bookstore near you! 
Book Club Discussion Questions   
1. Do you enjoy reading mysteries set partially in exotic foreign locations? 
2. Would your teenage daughter our granddaughter develop a greater sense of personal responsibility for her safety, both onlne and in person, by reading this book?
3. Do you enjoy reading about what goes on behind the scenes regarding the doctors who are permitted to admit and treat hospital patients?
4. Does the topic of continuing education for doctors as portrayed in this book make you feel more confident in your hospital?
5. How often do you visit a library, either in person or online, to acquire accurate information on any topic?
6. Were you aware that hospitals have libraries and that there are librarians who specialize in health sciences and in forensics?
                          Breach of Ethics – Book 3 Released May 1, 2016
Ten-year-old piano prodigy Natasha Korba
survives a burst appendix  thanks to the skill of her surgeon Dr. Gavin Lowe and the blood transfusion he ordered despite her parents' objections.  At a meeting of the Timbergate Medical Center's Ethics Committee the following day, administrator Jared Quinn asks Lowe to justify ordering the transfusion. Angered by the request, Lowe takes a punch at Quinn. Meeting facilitator Aimee Machado uses jujitsu to take Lowe to the floor. When Lowe's body is found shot to death in Quinn's locked office the next morning, both Quinn and Aimee become suspects.
It takes Aimee's brother, Harry, her sometimes boyfriend Nick Alexander, and a few friends with special talents to help police crack the case before Aimee becomes the next victim.
"Once again this author brings to life an enthralling mystery with a fine attention to detail and delightful background on the main character's family members. The mystery itself is a fascinating series of twists and turns. The bit of insight into the training of llamas is enjoyable."
–RT Magazine
" . . . I had no idea of what a forensic librarian did. Now, thanks to Ms. St. George, I know. Wow. And Aimee Machado is an even more interesting character so . . . watch out all your chores will go unattended because you will want to read. The characters are all unique and each claim your attention. "Breach of Ethics" is a clever murder mystery, loaded with twists and turns and red herrings that will leave you guessing all the while you are flipping pages to find out what happens next.  Ms. St. George has provided us with an action-filled thriller which propels Aimee Machado, and us, to the end in this exciting mystery that leaves you wanting more.  I am already looking forward to the next book in this series from this very talented author."
–Vic's Media Room
Another riveting mystery from the pen of Sharon St. George, "Breach of Ethics" clearly demonstrates the author's total mastery of the genre. Very highly recommended for community library Mystery/Suspense collections, it should be noted for dedicated mystery buffs that "Breach of Ethics" is also available in a Kindle edition. Also very highly recommended are the first two Aimee Machado mystery novels: "Due for Discard" and "Checked Out."
–Jack Mason, Reviewer ~ Midwest Book Review
Checked Out – Book 2 – Released October 1, 2015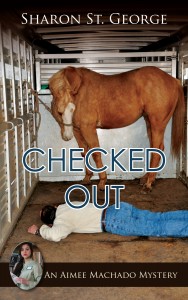 Rodeo cowboy Cody O'Brien sneaks away from Timbergate Medical Center the night before his scheduled surgery. Before dawn, he is found fatally wounded in his horse trailer. Aimee's colleague and friend, Cleo Cominoli, suspects the woman urologist scheduled to do Cody's surgery is somehow mixed up in his death. Cleo's fiancé is scheduled for surgery by the same woman. She pleads with Aimee to help her investigate before her intended becomes another victim. It soon becomes obvious there are many who benefit from the cowboy's death, and Aimee once again needs the help of her ex-boyfriend Nick Alexander to discover the truth.
An exceptionally engaging mystery thriller from beginning to end . . . Checked Out is a deftly crafted novel that will prove to be an enduringly popular addition to community library Mystery/Suspense collections. – Mary Cowper for Midwest Book Review
Number two in a series is always a challenge for an author, especially after a successful launch. Sharon St. George shows that she can keep up the momentum established in Due for Discard with her enterprising amateur sleuth, Aimee Machado. – New York Review of Books
Sharon St. George has created an absorbing mystery of family betrayal, medical intrigue, and three highly interwoven mysteries. – Tracy Weber, Agatha Award nominated author of the Downward Dog Mysteries.
St. George's latest Aimee Machado book is filled with twists and cleverly plotted. Her obvious knowledge of the medical world and human relations provides a satisfying page turner. – Sasscer Hill, Agatha and Macavity Award nominated author
                           Due For Discard – Book 1 Released March 1, 2015
In the debut novel in this series, a popular plastic surgeon's trophy wife is found dead in a Dumpster. Aimee fears her boss will be the primary suspect, but finds to her horror that her own brother last saw the victim alive. Aimee has her hands full ranch-sitting her grandparents' llama herd while she's starting her new dream job, recovering from a broken romance, and, with the help of her ex-boyfriend Nick Alexander, proving her brother isn't a killer. Please use the following link to read reviews of Due for Discard: http://duefordiscard.blogspot.com/