We've all heard stories about the little boy who cries all the way through his first haircut. Our three-year-old was no exception . . . except he's a llama.
Before we bought Quartz, he had never been introduced to electric shears. Now he was confronted with a big, strong stranger with a mysterious tool that made a very scary noise. The poor llama obviously believed he was about to be killed.
Shearing is important where we live. Our summer heat is not something you want to endure while wearing a thick wool coat. The heat came early this year, and the man who shears our animals had a long list of customers ahead of us. When he called to say he was available, we said, "Come on over." The job needed to be done, in spite of our doubts about how our new boy would handle his first haircut.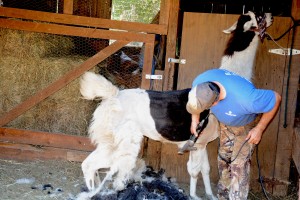 So what did our three-year-old do? He cried. He spit. He cried some more. Our shearer finally decided to put a blindfold over the llama's eyes, hoping that would calm him. It did help, and when the job was done, Quartz was much cooler and far more comfortable. Except for the aftertaste of spit that kept him drooling for half an hour.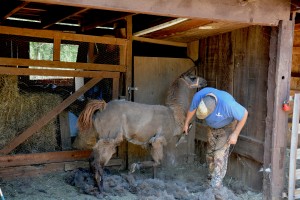 Smoke, our older, more experienced llama,had been standing by watching the drama of the first haircut unfold. Hard to know what he was thinking. Some people don't believe animals think, but I disagree. In any case, when Smoke's turn came, he knew the ropes, both literally and figuratively, and maintained his dignity throughout his own wool removal.
People always ask if we use the wool, or if we sell it. We don't. Our llamas are used as pack animals. It is the smaller alpaca that is often raised for wool. A good explanation of the differences between llamas and alpacas can be found at http://www.mountairyalpacas.com/llama.html